Manny Pacquiao records new song, will enter Mayweather fight to it – CBSSports.com



February 27, 2015 4:03 PM ET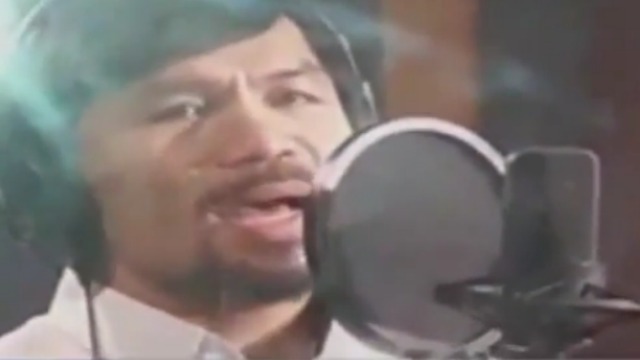 Manny Pacquiao pulled a Jay Z and un-retired from music.

Previously saying over a month ago that he'd never sing on record again, Pacquiao will enter his upcoming and much anticipated May 2 fight against Floyd Mayweather to a song he recorded himself. The song is titled "Lalaban Ako Para sa Pilipino," which translates in English to "I Will Fight for the Philippines."

Pacquiao worked with composer Lito Camo, who has collaborated with the eight-division boxing champion on previous music endeavors.

This song is sure to be a hit with the legion of fans that have followed Pacquiao's long and storied career.
NCAA Basketball

div.fyre-comment-divider {margin: 0px;}
.fyre .fyre-comment-article .fyre-comment-wrapper time.fyre-comment-date {position: relative; top: -16px;}
.fyre .fyre-comment-replies-indent {margin-left: 0px; padding-left: 62px;}
.fyre .fyre-comment-source-13 > .fyre-comment-divider.fyre-divider-active > div.fyre-comment-divider, .fyre .fyre-comment-source-13 > .fyre-comment-divider.fyre-comment-collapse > div.fyre-comment-divider, .fyre .fyre-comment-divider.fyre-divider-active > div.fyre-comment-divider, .fyre .fyre-comment-divider.fyre-comment-collapse > div.fyre-comment-divider {margin: 0 0 0 62px;}
/*
.fyre .fyre-notifier-container {left: 0px !important;}
*/
.fyre .fyre-stream-stats:before {
border-color: #0B0B3B transparent transparent #0B0B3B;
border-image: none;
border-style: solid;
border-width: 5px;
content: " ";
height: 0px;
left: 10px;
position: absolute;
top: 26px;
width: 0px;
}
.fyre .fyre-stream-stats {
border: 1px solid #000000;
width: 45px;
top: -37px;
/*left: 593px;*/
position: relative;
border-radius: 2px 2px 2px 2px;
color: #FFFFFF;
background-color: #0B0B3B;
float: right;
}
.fyre .fyre-comment-like-btn {
background-image: -moz-linear-gradient(100% 100% 90deg, rgba(181, 190, 196, 0.4), rgba(245, 247, 247, 0.4) 54%);
border: 1px solid #B5BEC4;
border-radius: 3px 3px 3px 3px;
color: #939393;
font-family: 'Droid Sans',arial,serif;
font-size: 12px;
font-weight: normal;
opacity: 0.6;
padding: 3px 6px;
text-shadow: 0 1px 0 rgba(255, 255, 255, 0.75);
text-transform: none;
}
.fyre .fyre-comment-like-btn:hover {
background-image: -moz-linear-gradient(100% 100% 90deg, rgba(181, 190, 196, 0.4), rgba(245, 247, 247, 0.4) 54%);
border: 1px solid #B5BEC4;
border-radius: 3px 3px 3px 3px;
color: #939393;
font-family: 'Droid Sans',arial,serif;
font-size: 12px;
font-weight: normal;
opacity: 0.6;
padding: 3px 6px;
text-shadow: 0 1px 0 rgba(255, 255, 255, 0.75);
text-transform: none;
}
.fyre .fyre-comment-reply {
background-image: -moz-linear-gradient(100% 100% 90deg, rgba(181, 190, 196, 0.4), rgba(245, 247, 247, 0.4) 54%);
border: 1px solid #B5BEC4;
border-radius: 3px 3px 3px 3px;
color: #939393;
font-family: 'Droid Sans',arial,serif;
font-size: 12px;
font-weight: normal;
opacity: 0.6;
padding: 3px 6px;
text-shadow: 0 1px 0 rgba(255, 255, 255, 0.75);
text-transform: none;
}
.fyre .fyre-comment-reply:hover {
background-image: -moz-linear-gradient(100% 100% 90deg, rgba(181, 190, 196, 0.4), rgba(245, 247, 247, 0.4) 54%);
border: 1px solid #B5BEC4;
border-radius: 3px 3px 3px 3px;
color: #939393;
font-family: 'Droid Sans',arial,serif;
font-size: 12px;
font-weight: normal;
opacity: 0.6;
padding: 3px 6px;
text-shadow: 0 1px 0 rgba(255, 255, 255, 0.75);
text-transform: none;
}
.fyre-stream-stats .fyre-comment-count span {text-align: center; width: 45px; color: #FFFFFF;}
.fyre .fyre-login-bar {top: -35px; font-family: "proxima-nova",verdana,sans-serif;}
.fyre .fyre-editor-toolbar .goog-toolbar > div.fyre-post-button {filter: none; background: #0B0B3B !important; background-color: #0B0B3B !important; background-image: none !important;}
.fyre .fyre-editor-toolbar .goog-toolbar > div.fyre-post-button .fyre-button-right-inner-box {color: #FFFFFF; text-shadow: 0px 0px; #FFFFFF}
#lf_login_buttons {position: relative; top: 5px; left: -6px; z-index: 4999;}
#lf_comments_label {display: none; float: right; right: 55px; position: relative; top: 48px; font-size: 18px; font-family: "proxima-nova",verdana,sans-serif;}
#customButtonCtr {height: 50px;}
.fyre .fyre-comment-actions a.fyre-delete-link {display: none;}
/* durations */
.fyre time.fyre-comment-date {margin-right: 5px; color: #888888;}
.fyre .fyre-comment-head, .fyre .fyre-comment-body {margin-left: 0px !important;}
.fyre .fyre-comment a.fyre-comment-edit {padding: 0px;}
.fyre .fyre-editor-toolbar > .goog-toolbar > .fyre-post-to .fyre-button-right-inner-box {background: url("http://sports.cbsimg.net/images/livefyre/post-to-sprite_birdyv1.png") no-repeat scroll left top transparent; color: transparent; height: 14px; width: 18px;}
.fyre .fyre-editor-toolbar > .goog-toolbar > .fyre-post-to-facebook .fyre-button-right-inner-box {background-position: -19px 0; width: 12px;}
.fyre .fyre-editor-toolbar > .goog-toolbar > .fyre-post-to-facebook .fyre-post-to-selected {background-position: -19px -19px; width: 12px;}
.fyre .fyre-editor-toolbar > .goog-toolbar > .fyre-post-to-twitter .fyre-button-right-inner-box.fyre-post-to-selected { background-position: 0 -19px; }
#getScreenName {display: none; font-family: "proxima-nova",verdana,sans-serif; font-size: 15px; color: #3E3E3E; position: relative; top: 36px; z-index: 4999;}
#getScreenName a:link {color: #3E3E3E;}
#getScreenName a:visited {color: #3E3E3E;}
#getScreenName a:hover {color: #3E3E3E;}
.fyre .fyre-stream-more .fyre-stream-more-container {background-color: #0B0B3B; background-image: none; }
.fyre .fyre-stream-more .fyre-stream-more-container .fyre-text {font-family: "proxima-nova",verdana,sans-serif; font-size: 15px; color: #FFFFFF; font-weight: bold;}
.fyre .fyre-stream-more {background: none;}
.fyre .fyre-editor-container {top: 5px !important;}
#fbLoginDiv {position: relative; top: -4px; left: 0px;}
#googlesignin {position: relative; top: -2px; left: 0px;}
.fyre .fyre-user-loggedout {font-family: "proxima-nova",verdana,sans-serif;}
.fyre .fyre-editor .fyre-editor-toolbar .goog-toolbar>div {font-family: "proxima-nova",verdana,sans-serif;}
.fyre .fyre-stream-sort {font-family: "proxima-nova",verdana,sans-serif;};
.fyre .fyre-comment-head, .fyre .fyre-comment-body {font-family: "proxima-nova",verdana,sans-serif;};
]]>

"
}
//console.log(customStrings.signIn);
callFBApi = function() {
var accessToken;
var uid;
//CBSi.injectJS('//connect.facebook.net/en_US/all.js#xfbml=1′, 'facebook-jssdk');
/*
FB.init({
appId : '297742330311988′,
oauth : true
});
*/
FB.getLoginStatus(function(response) {
if (response.status === 'connected') {
handle_fb_response(response.authResponse);
}
else{
FB.login(function(response) {
if (response.authResponse) {
handle_fb_response(response.authResponse);
/*
uid = response.authResponse.userID;
accessToken = response.authResponse.accessToken;
//CBSi.log("== FB APP DATA ==", response);
FB.api('/me', function(social) {
//CBSi.log("== FB USER DATA ==", social);
log_in_socially(social.name, social.username, 'fb');
document.cookie = "lf_social_info=|FB|; expires=0; path=/";
});
*/
}
});
}
});
};
handle_fb_response = function(authResponse){
uid = authResponse.userID;
accessToken = authResponse.accessToken;
FB.api('/me', function(social) {
//CBSi.log("== FB USER DATA ==", social);
log_in_socially(social.name, social.username, 'fb');
document.cookie = "lf_social_info=|FB|; expires=0; path=/";
});
}
log_in_socially = function(dn, userid, site) {
$.ajax({
url: "/data/common/livefyre/lf_social_login",
dataType: 'json',
data: {
lfdn: dn,
lfuser: userid,
ssite: site
}
}).done(function(profile) {
//CBSi.log("== Social Login ==",profile,site);
if (profile.error) {
//CBSi.log("Social login failed with error: ", profile);
return null;
}
else {
document.cookie = "lf_social_login="+ profile.socialsess +"; expires=0; path=/";
profile.socialsess = '1′;
userObj = profile;
lf_user_profile = profile;
doLivefyreAuth(profile);
}
});
};
callTwitterApi = function() {
window.open('/common/livefyre/V3/via_twitter?debug=32′,'twitterOauth','width=600,height=500,menu=0,status=0′);
};
callTwitterApiHidden = function() {
var arr1 = readCookie('lf_social_info').split(/\|/);
log_in_socially(arr1[2], arr1[3], 'twitter');
hasProfile = 1;
}
function doLivefyreAuth(cval) {
//console.log("== Attempting LF Login ==",cval);
var isLoggedIn = 1;
if (cval) {
try {
fyre.conv.login(cval.token);
} catch (e) {
isLoggedIn = 0;
}
}
}
changeDOM = function() {
// DOM hacks. Change the UI for the dropdown box
//console.log("== Running Dom Hacks ==");
if (isLoggedIn == 1){
//console.log("== Checking Match ==");
if (hasProfile == 0) {
//CBSi.log("== adding get comment link ==");
// They need a screen name
//$('.lf_auth_section a.lf_user_loggedout').html('Get a Screen Name to Comment').addClass('loginLink');
$('.fyre .fyre-user-loggedout').hide();
$('#getScreenName').show();
var screenNameContent = 'Get a Screen Name to Comment';
$('#getScreenName').html(screenNameContent);
}
/*
else {
if (typeof userObj.profile.profile_url != 'undefined'){
if (userObj.profile.profile_url) {
//CBSi.log("== adding login profile links ==");
$('.fyre .fyre-box-wrapper a.fyre-user-profile-link').attr('href',userObj.profile.profile_url);
$('li.fyre-edit-profile-link').html('Edit Profile');
}
}
}
*/
}
changedDom = 1;
//console.log("== finished dom hacks ==");
};
function updateCommentCounts(element,count){
//CBSi.log("== updating comment counts ==");
if (count == 1){
$(element).html('' + count + '   |  Comment');
$(element).show();
$('.commentsCountLabel').html('comment');
}
else{
$(element).html('' + count + '   |  Comments');
$(element).show();
$('.commentsCountLabel').html('comments');
}
$('.commentsCount').html(count);
}
function removeLfError(){
$('#cbsLfError').remove();
}
var authDelegate = new fyre.conv.RemoteAuthDelegate();
authDelegate.login = function (handlers){
');
handlers.failure();
}
else{
removeLfError();
handlers.success();
}
};
function updateAuthorLinks(){
$('.fyre-comment-username').each(function() {
$(this).click(function() {
window.location.href = $(this).attr('href');
});
});
$('.fyre-comment-author').each(function() {
$(this).click(function() {
window.location.href = $(this).attr('href');
});
});
}
function updateOneLineComments(){
//console.log("Checking Comments");
$(".fyre-comment-wrapper").each(function() {
if ($(this).find(".fyre-comment").css('display') != 'none'){
var commentText = $(this).find(".fyre-comment").html();
if (commentText != null){
var loopCtr = 0;
// for IE8
while ( (commentText.indexOf("
") !== -1) && (loopCtr ",' ');
commentText = commentText.replace("
",' ');
loopCtr++;
}
//for other browsers
while ( (commentText.indexOf("
") !== -1) && (loopCtr ",' ');
commentText = commentText.replace("
",' ');
loopCtr++;
}
//console.log(commentText);
$(this).find(".fyre-comment").css('display','none');
$(this).find(".fyre-comment-head").append(commentText);
} // end check for blank text
}
//console.log("Checking Height");
cntHeight = $(this).find(".fyre-comment-head").height();
if (cntHeight > 0){
//console.log("Setting Height");
cntHeight = -1 * ((cntHeight / 2) + 12);
$(this).find(".fyre-flag-link").css('top',cntHeight);
}
});
}
function change_profile_link(){
$(".fyre .fyre-box-list .fyre-edit-profile-link a").attr("href",'#');
$(".fyre .fyre-box-list .fyre-edit-profile-link a").attr("alt",");
$('.fyre .fyre-box-list .fyre-edit-profile-link a').click(function() { return false; });
$('.fyre .fyre-box-list .fyre-edit-profile-link').remove();
$(".fyre .fyre-comment-head .fyre-comment-username").attr("href",'#');
$(".fyre .fyre-comment-head .fyre-comment-username").attr("target",");
$(".fyre .fyre-comment-head .fyre-comment-username").attr("alt",");
$('.fyre .fyre-comment-head .fyre-comment-username').click(function() { return false; });
$('.fyre .fyre-comment-head').each(function() {
var alltxt = $(this).html();
var nickname = $(this).find('.fyre-comment-username').html();
if (!(nickname == null)){
alltxt = "" + nickname + '
' + alltxt.replace(/]*)>[\s\S]*?/gi,");
$(this).html(alltxt);
}
});
$('.fyre .fyre-comment p').each(function() {
var alltxt = $(this).html();
var mention = $(this).find('.fyre-mention').html();
if (!(mention == null)){
alltxt = alltxt.replace(/]*)>[\s\S]*?/gi,");
$(this).html(alltxt);
}
});
}
function open_profile(profile_link_url){
window.open(profile_link_url);
}
$(document).ready( function () {
// Log in the user if we got a token for them
// Change the DOM after login since things get re-rendered
//console.log("== LF Calling Load ==");
var conv = fyre.conv.load({"network": "cbssports.fyre.co", 'strings': customStrings, authDelegate: authDelegate}, lf_config, function(widget) {
//console.log("== LF in Load ==");
widget.on('initialRenderComplete', function () {
//console.log("== LF Render Complete ==");
$('#lf_comments_label').show();
loggedin = readCookie('pid');
//CBSi.log(loggedin);
if ((typeof loggedin == "string") && (loggedin.match(/^L:/))) {
isLoggedIn = 1;
if (typeof userObj.token != 'undefined'){
if (userObj.token) {
hasProfile = 1;
document.cookie = "lf_social_info=; expires=0; path=/";
doLivefyreAuth(userObj);
}
}
changeDOM();
}
var loggedSocially = new String(readCookie('lf_social_info'));
if ((loggedSocially == "|FB|") && (isLoggedIn == 0)){
isLoggedIn = 1;
hasProfile = 1;
callFBApi();
}
if ((loggedSocially.indexOf("|GP|") >= 0) && (isLoggedIn == 0)){
isLoggedIn = 1;
hasProfile = 1;
callGPApi();
}
updateCommentCounts('.commentsBubble',$('.fyre-stream-stats .fyre-comment-count span').html());
updateAuthorLinks();
setTimeout(function(){},2000);
change_profile_link();
setTimeout(function(){change_profile_link()},2000);
});
widget.on('userLoggedIn', function () {
//CBSi.log("== LF Logging In User ==");
changeDOM();
removeLfError();
//console.log("Logged in changing comment format");
setTimeout(function(){change_profile_link()},2000);
});
widget.on('userLoggedOut', function () {
//CBSi.log("== LF Logging Out User ==");
if (document.cookie.indexOf("|GP|") > 0){
disconnectGPUser(globalGPaccessToken);
}
document.cookie = "lf_social_info=; expires=0; path=/"
document.cookie = "lf_login_info=; expires=0; path=/"
setTimeout(function(){FB.XFBML.parse();},500);
});
widget.on('commentCountUpdated', function (countData) {
//CBSi.log("== LF Comment Added ==");
updateCommentCounts('.commentsBubble',countData);
change_profile_link();
setTimeout(function(){change_profile_link()},2000);
});
widget.on('commentPosted', function (countData) {
updateAuthorLinks();
change_profile_link();
setTimeout(function(){change_profile_link()},2000);
});
});
});
');

// load lightbox
$('.lightboxModalContainer').load('/video/player/lightbox/'+$(this).data('channel')+'/'+$(this).data('pcid'), function () {
window.centerLightbox();

$('.lightbox .closeBtn').click( function () {
$('.lightboxModalContainer').remove();
delete CBSi.app.VideoPlayer.playerRefs.lightbox;
});
});
}
});

$(window).resize( function () { window.centerLightbox(); } );

window.centerLightbox = function () {
if ($('.lightbox').length) {
var left = (($(window).width() – $('.lightbox').outerWidth(true))/2);
$('.lightbox').css('left', left+'px');
}
};

}
});



CBSSports.com Shop
Gear up for March
Get your gear
Shop Now
Round 2 ","synopsis":"Honda Classic: Round 2″,"photo":{"width":"231″,"seq_no":"1″,"content_id":"25084135″,"href":"$IMAGE_SERVER/u/photos/golf/img25084135.jpg","height":"130″},"href":"http://pgatour.cbssports.com/live","title":"Honda Classic"},"headlines":[{"href":"http://pgatour.cbssports.com/live","content":"Watch LIVE: Honda Classic, Round 2″},{"href":"http://www.cbssports.com/golf/story/25083529/lewis-pulls-ahead-at-lpga-thailand-with-second-round-64″,"content":"Lewis grabs three-stroke lead at LPGA Thailand"},{"href":"http://www.cbssports.com/golf/eye-on-golf/25082441/sean-foley-thinks-tiger-woods-family-is-taking-precedence-over-golf","content":"Ex-Tiger coach Foley: Family priority over golf"},{"href":"http://www.cbssports.com/golf/story/25082615/henning-matches-course-record-for-one-shot-lead-at-joburg-open","content":"Henning matches course record at Joburg Open"},{"href":"http://www.cbssports.com/golf/eye-on-golf/25082608/the-links-rory-mcilroy-says-us-is-desperate-to-win-ryder-cup","content":"The Links: Rory says US 'desperate' for Ryder"},{"href":"http://www.cbssports.com/golf/eye-on-golf/25079875/pga-tour-member-thinks-tiger-woods-agent-is-covering-for-him","content":"PGA player: Tiger's agent 'covering for him'"},{"href":"http://www.cbssports.com/golf/eye-on-golf/25080371/davis-love-iii-officially-named-us-ryder-cup-captain-for-2016″,"content":"Love to captain US Ryder Cup team in 2016″}]},"nfl":{"minicover":{"body":"
Prisco: Dealing picks to trade up is risky, especially for a spread QB. But Marcus Mariota piloting Chip Kelly's attack makes too much sense to pass up. Story ","synopsis":"Prisco: Eagles need Mariota","photo":{"width":"231″,"seq_no":"1″,"content_id":"25083654″,"href":"$IMAGE_SERVER/u/photos/football/nfl/img25083654.jpg","height":"130″},"href":"http://www.cbssports.com/nfl/writer/pete-prisco/25083212/why-the-eagles-must-trade-up-to-reunite-marcus-mariota-and-chip-kelly","title":"Make the deal, Chip"},"headlines":[{"href":"http://www.cbssports.com/nfl/writer/pete-prisco/25083212/why-the-eagles-must-trade-up-to-reunite-marcus-mariota-and-chip-kelly","content":"Why Chip Kelly needs to trade up to reunite with Marcus Mariota"},{"href":"http://www.cbssports.com/nfl/eye-on-football/25082459/agents-take-money-or-rings—-whats-more-valuable-to-darrelle-revis","content":"Agent's Take: What matters most to Revis?"},{"href":"http://www.cbssports.com/nfl/eye-on-football/25082792/future-nfl-power-rankings-packers-colts-will-rule-nfl-in-2017″,"content":"Future NFL Power Rankings: Packers, Colts rule"},{"href":"http://fantasynews.cbssports.com/fantasyfootball/update/25083982/adrian-petersons-dad-ive-heard-rumors-of-colts-cards-cowboys","content":"AP's dad: 'Rumors' of Colts, Cardinals, Cowboys"},{"href":"http://fantasynews.cbssports.com/fantasyfootball/update/25084089/cardinals-release-defensive-tackle-darnell-dockett","content":"Cardinals release Dockett"},{"href":"http://fantasynews.cbssports.com/fantasyfootball/update/25083711/ravens-part-ways-with-veteran-de-chris-canty-to-free-cap-space","content":"Ravens terminate veteran Canty, save $2.66M"},{"href":"http://www.cbssports.com/nfl/eye-on-football/25084007/nfl-considering-possible-changes-to-drills-at-combine","content":"Birk: NFL considering changes to combine drills"}]},"college football":{"minicover":{"body":" Dodd: Will Ohio State have a recruiting advantage over Michigan because it can pay players $600 more? That is among the questions raised by cost of attendance. Story ","synopsis":"Dodd: Money changes game","photo":{"width":"231″,"seq_no":"1″,"content_id":"25083742″,"href":"$IMAGE_SERVER/u/photos/football/college/img25083742.jpg","height":"130″},"href":"http://www.cbssports.com/collegefootball/writer/dennis-dodd/25083726/players-about-to-get-paid-as-money-changes-game-in-college-athletics","title":"Unfair financial fight?"},"headlines":[{"href":"http://www.cbssports.com/collegefootball/writer/jon-solomon/25083565/welcome-to-sec-west-where-a-4-million-coach-will-finish-in-last-place","content":"Every SEC West coach making at least $4M"},{"href":"http://www.cbssports.com/collegefootball/eye-on-college-football/25083798/my-god-hes-ineligible-even-vince-dooley-in-favor-of-sitting-freshmen","content":"Ex-Georgia coach Dooley backs freshmen sitting"},{"href":"http://www.cbssports.com/collegefootball/eye-on-college-football/25084138/john-chavis-files-lawsuit-against-lsu-am-over-contract-dispute","content":"Chavis sues LSU, Texas A&M over buyout"},{"href":"http://www.cbssports.com/collegefootball/eye-on-college-football/25084087/former-unlv-rb-david-peebles-dead-at-29","content":"Former UNLV running back Peebles dies at 29"},{"href":"http://www.cbssports.com/collegefootball/eye-on-college-football/25083777/oklahoma-state-adds-two-nfl-assistants-to-coaching-staff","content":"OK State adds NFL assistants to coaching staff"},{"href":"http://www.cbssports.com/collegefootball/eye-on-college-football/25082330/report-san-francisco-49ers-to-bid-for-cfp-title-game","content":"Report: NFL's 49ers to bid for CFP title game"},{"href":"http://www.cbssports.com/collegefootball/eye-on-college-football/25082311/silas-nacita-the-bottom-line-is-that-i-broke-the-rules","content":"Baylor's Nacita: I broke rules"}]},"mlb":{"minicover":{"body":" Perry: Norichika Aoki joins the champion Giants ready to fight for the starting left field job, while the rival Dodgers still must sort out their crowded outfield. Story ","synopsis":"Position battles: NL West","photo":{"width":"231″,"seq_no":"1″,"content_id":"25083898″,"href":"$IMAGE_SERVER/u/photos/baseball/mlb/img25083898.jpg","height":"130″},"href":"http://www.cbssports.com/mlb/eye-on-baseball/25083628/spring-training-positional-battles-to-watch-nl-west","title":"Spring battles: NL West"},"headlines":[{"href":"http://fantasynews.cbssports.com/fantasybaseball/update/25084061/braves-of-melvin-upton-jr-out-at-least-two-months-with-foot-injury","content":"Braves' Upton out at least two months (foot)"},{"href":"http://fantasynews.cbssports.com/fantasybaseball/update/25083564/cardinals-adam-wainwright-targeting-2-3-weeks-for-spring-debut","content":"Cards' Wainwright wants to pitch in 2-3 weeks"},{"href":"http://fantasynews.cbssports.com/fantasybaseball/update/25083955/report-josh-hamilton-decision-could-come-in-weeks","content":"Report: Hamilton decision could be 'in weeks'"},{"href":"http://fantasynews.cbssports.com/fantasybaseball/update/25083712/brewers-3b-aramis-ramirez-likely-to-retire-after-2015-season","content":"Brewers 3B Ramirez likely to retire after 2015"},{"href":"http://fantasynews.cbssports.com/fantasybaseball/update/25083556/report-bartolo-colon-in-the-running-to-start-opening-day-for-mets","content":"Report: Colon candidate to start Mets' opener"},{"href":"http://www.cbssports.com/mlb/writer/jon-heyman/25082941/entertaining-a-rod-happy-to-be-back-on-field-puts-on-show-on-day-one","content":"Heyman: A-Rod puts on show on first day"},{"href":"http://fantasynews.cbssports.com/fantasybaseball/update/25082764/josh-hamiltons-mentor-friend-his-baseball-career-should-be-over","content":"Hamilton mentor: MLB 'career should be over'"}]},"nhl":{"minicover":{"body":" Gretz: Teams will gamble at the trade deadline that draft picks won't turn into much. But every once in a while, that selection turns into Max Pacioretty or Mike Green. Story ","synopsis":"Gretz: Trade gambles","photo":{"width":"231″,"seq_no":"1″,"content_id":"25083831″,"href":"$IMAGE_SERVER/u/photos/hockey/img25083831.jpg","height":"130″},"href":"http://www.cbssports.com/nhl/eye-on-hockey/25083645/how-often-do-draft-picks-traded-at-the-deadline-turn-into-something","title":"Draft picks as poker chips"},"headlines":[{"href":"http://www.cbssports.com/nhl/eye-on-hockey/25083518/nhl-daily-picks-kings-and-ducks-face-off-out-west","content":"Daily Picks: Ducks cool Kings in Pacific battle"},{"href":"http://www.cbssports.com/nhl/eye-on-hockey/25083745/nhl-trade-deadline-rumor-mill","content":"Rumor Mill: All latest buzz at trade deadline"},{"href":"http://www.cbssports.com/nhl/eye-on-hockey/25083999/watch-sharks-f-logan-couture-fined-5000-for-slew-footing-brendan-smith","content":"Sharks' Couture fined $5K for slew-foot of Smith"},{"href":"http://www.cbssports.com/nhl/eye-on-hockey/25084081/penguins-pascal-dupuis-vows-to-play-in-nhl-again-after-blood-clots","content":"Dupuis vows to return after 2nd health scare"},{"href":"http://www.cbssports.com/nhl/eye-on-hockey/25083910/flames-d-mark-giordano-expected-to-be-out-with-upper-body-injury","content":"Flames' Giordano unlikely to play Fri. at Islanders"},{"href":"http://www.cbssports.com/nhl/eye-on-hockey/25082884/jaromir-jagr-traded-to-florida-panthers-for-draft-picks","content":"Devils trade Jagr to Panthers for draft picks"},{"href":"http://www.cbssports.com/nhl/eye-on-hockey/25083016/maple-leafs-trade-david-clarkson-to-blue-jackets-for-nathan-horton","content":"Leafs trade Clarkson to Jackets for Horton"}]},"extras":{"collegefootball":{"links":[{"href":"http://www.cbssports.com/writers/dennis-dodd","content":"Dennis Dodd"},{"href":"http://www.cbssports.com/writers/jon-solomon","content":"Jon Solomon"},{"href":"http://www.cbssports.com/collegefootball/heisman","content":"Heisman"},{"href":"http://www.cbssports.com/collegefootball/blog/eye-on-college-football","content":"Eye On College FB"}]},"video":{"links":[{"href":"http://www.cbssports.com/video/player/jim-rome","content":"Rome"},{"href":"http://www.cbssports.com/video/player/doug-gottlieb","content":"Gottlieb"},{"href":"http://www.cbssports.com/video/player/boomer-carton","content":"Boomer & Carton"},{"href":"http://www.cbssports.com/video/player/titan-mma","content":"Titan FC"},{"href":"http://www.cbssports.com/video/player/we-need-to-talk","content":"We Need to Talk"}]},"golf":{"links":[{"href":"http://www.cbssports.com/golf/blog/eye-on-golf","content":"Eye on Golf"},{"href":"http://www.cbssports.com/video/player/golf","content":"Video"},{"href":"http://www.cbssports.com/golf/rankings/cup-points","content":"FedEx Cup"}]},"nfl":{"links":[{"href":"http://www.cbssports.com/nfl/blog/eye-on-football","content":"Eye on Football"},{"href":"http://www.cbssports.com/writers/pete-prisco","content":"Pete Prisco"},{"href":"http://www.cbssports.com/writers/jason-la-canfora","content":"Jason La Canfora"},{"href":"http://www.cbssports.com/writers/pat-kirwan","content":"Pat Kirwan"}]},"olympics":{"links":[{"href":"http://www.cbssports.com/olympics/blog/eye-on-olympics","content":"Eye on Olympics"}]},"mlb":{"links":[{"href":"http://www.cbssports.com/mlb/blog/eye-on-baseball","content":"Eye on Baseball"},{"href":"http://www.cbssports.com/writers/jon-heyman","content":"Jon Heyman"},{"href":"http://www.cbssports.com/topic/2143202/mlb-rumors?tag_text=MLB%20Rumors","content":"Rumors"},{"href":"http://www.cbssports.com/mlb/transactions/free-agents","content":"Free Agents"}]},"nhl":{"links":[{"href":"http://www.cbssports.com/nhl/blog/eye-on-hockey","content":"Eye on Hockey"},{"href":"http://www.cbssports.com/topic/1979968/nhl-rumors","content":"Rumors"},{"href":"http://www.cbssports.com/nhl/powerrankings","content":"Power Rankings"}]},"collegebasketball":{"links":[{"href":"http://www.cbssports.com/collegebasketball/blog/eye-on-college-basketball","content":"Eye on College BB"},{"href":"http://www.cbssports.com/nba/draft","content":"NBA Draft"},{"href":"http://www.cbssports.com/collegebasketball/rankings/top25","content":"Top 25 (And One)"},{"href":"http://247sports.com/Page/Basketball-Recruiting-News-and-Message-Boards-100135?referer=CBSSPORTS","content":"247 Sports"}]},"tennis":{"links":[{"href":"http://www.cbssports.com/tennis/history","content":"Grand Slam History"},{"href":"http://www.cbssports.com/tennis/usopen/schedule","content":"U.S. Open TV Schedule"}]},"nba":{"links":[{"href":"http://www.cbssports.com/nba/blog/eye-on-basketball","content":"Eye on Basketball"},{"href":"http://www.cbssports.com/writers/ken-berger","content":"Ken Berger"},{"href":"http://www.cbssports.com/nba/powerrankings","content":"Power Rankings"}]},"worldcup":{"links":[{"href":"http://www.cbssports.com/world-cup/eye-on-world-cup","content":"Eye on World Cup"},{"href":"http://www.cbssports.com/topic/303439/united-states?tag_text=United%20States","content":"Team USA Coverage"}]},"autoracing":{"links":[{"href":"http://www.cbssports.com/nascar/chase","content":"Chase"},{"href":"http://www.cbssports.com/nascar/blog/eye-on-nascar","content":"Eye on NASCAR"},{"href":"http://www.cbssports.com/nascar/photos","content":"Photos"}]}},"config":{"omni_event":"More","brackets":{"omni_event":"Brackets","cover":0,"domEl":"brackets","active":0,"headlines":0},"olympics":{"omni_event":"Olympics","cover":1,"domEl":"olympics","active":1,"headlines":1},"mlb":{"omni_event":"MLB","cover":1,"domEl":"mlb","active":1,"headlines":1},"maxpreps":{"omni_event":"HighSchool","cover":1,"domEl":"highschool","active":1,"headlines":1},"tennis":{"omni_event":"Tennis","cover":1,"domEl":"tennis","active":1,"headlines":1},"college basketball":{"omni_event":"CollegeBasketball","cover":1,"domEl":"collegebasketball","active":1,"headlines":1},"autoracing":{"omni_event":"NASCAR","cover":1,"domEl":"autoracing","active":1,"headlines":1},"golf":{"omni_event":"Golf","cover":1,"domEl":"golf","active":1,"headlines":1},"video":{"omni_event":"Video","ulive":1,"cover":1,"domEl":"video","active":1,"headlines":1},"nfl":{"omni_event":"NFL","cover":1,"domEl":"nfl","active":1,"headlines":1},"college football":{"omni_event":"CollegeFootball","cover":1,"domEl":"collegefootball","active":1,"headlines":1},"nhl":{"omni_event":"NHL","cover":1,"domEl":"nhl","active":1,"headlines":1},"nfl draft":{"omni_event":"NFLDraft","cover":1,"domEl":"nfldraft","active":0,"headlines":0},"nba":{"omni_event":"NBA","cover":1,"domEl":"nba","active":1,"headlines":1},"worldcup":{"omni_event":"WorldCup","cover":1,"domEl":"worldcup","active":1,"headlines":1},"fantasy news":{"omni_event":"Fantasy","cover":1,"domEl":"fantasy","active":1,"headlines":1},"more sports":{"cover":0,"domEl":"more","active":1,"headlines":0}},"tennis":{"minicover":{"body":" Defending champ and No. 1 Serena Williams rolls over Ekaterina Makarova to reach the final, where she'll face Caroline Wozniacki for her sixth US Open title. Story ","synopsis":"US Open: Women's final set","photo":{"width":"231″,"seq_no":"1″,"content_id":"24696095″,"href":"$IMAGE_SERVER/u/photos/tennis/img24696095.jpg","height":"130″},"href":"http://www.cbssports.com/general/eye-on-sports/24695919/us-open-caroline-wozniacki-moves-into-final-as-peng-shuai-retires","title":"Serena, Wozniacki in final"},"headlines":[{"href":"http://www.usopen.org/en_US/console/console.cbs.html","content":"Watch LIVE: Women's semifinals"},{"href":"http://www.cbssports.com/general/eye-on-sports/23514189/williams-sisters-bow-out-in-us-open-semis","content":"Williams sisters lose in doubles semifinals in Open"},{"href":"http://www.cbssports.com/general/eye-on-sports/23379402/james-blakes-career-ends-in-heartbreaking-fashion-at-us-open","content":"Blake's career ends in heartbreaking fashion"}]},"maxpreps":{"minicover":{"body":"When it comes to high school basketball on-campus venues, you won't find one bigger than New Castle Fieldhouse in Indiana. Check out our video tour of the 9,325-seat venue and the Indiana High School Basketball Hall of Fame.","synopsis":"When it comes to high school basketball on-campus venues, you won't find one bigger than New Castle Fieldhouse in Indiana. Check out our video tour of the 9,325-seat venue and the Indiana High School Basketball Hall of Fame.","photo":{"href":"http://images.maxpreps.com/includes/images/cbssportsmenu/130687741254348183.jpg"},"href":"http://t.maxpreps.com/1vEkQCI","title":"Kings from New Castle"},"headlines":[{"href":"http://www.maxpreps.com/news/D_aDosKPOUyN6KRVx2dFsQ/the-10-toughest-high-school-baseball-tournaments-of-2015.htm","content":"10 Toughest Baseball Tournaments"},{"href":"http://www.maxpreps.com/news/k4imsJdAyUuPSny91250OA/maxpreps-2015-preseason-top-50-high-school-softball-team-rankings-.htm","content":"Preseason softball Top 50"},{"href":"http://www.maxpreps.com/news/KCEwWbXSM0ydwzQI5uuOXQ/californias-leading-high-school-basketball-scorer-was-a-jv-benchwarmer-last-year.htm","content":"From JV scrub to California's top scorer"},{"href":"http://www.maxpreps.com/blogs/maxwire-national-blog/HH36RPFadkivexnSVcUahA/legendary-high-school-football-coach-jt-curtis-to-be-inducted-to-nfhs-hall-of-fame.htm","content":"J.T. Curtis to be inducted to NFHS HOF"},{"href":"http://www.maxpreps.com/blogs/maxwire-national-blog/eHm0Xf5ANkiTIhXQ5Pyt_A/former-no-1-overall-mlb-draft-pick-brady-aiken-is-going-back-to-school.htm","content":"Former top MLB pick going back to HS"},{"href":"http://www.maxpreps.com/news/X5GYpXTHY025NINljjKOfQ/video--desperation-airball-wins-high-school-basketball-game.htm","content":"Desperation airball wins game"}]},"nba":{"minicover":{"body":" The Grizzlies, Blazers and Warriors sit atop their divisions out West. But are they five-star teams as we review the third-quarter of the NBA season? Story | Eastern review ","synopsis":"NBA third-quarter review","photo":{"width":"231″,"seq_no":"1″,"content_id":"25083787″,"href":"$IMAGE_SERVER/u/photos/basketball/nba/img25083787.jpg","height":"130″},"href":"http://www.cbssports.com/nba/eye-on-basketball/25083331/five-star-review-western-conference-third-quarter-report","title":"Third-quarter review: Western"},"headlines":[{"href":"http://www.cbssports.com/nba/eye-on-basketball/25083315/five-star-review-eastern-conference-third-quarter-report","content":"Eastern Conference third-quarter review"},{"href":"http://fantasynews.cbssports.com/fantasybasketball/update/25083604/report-ray-allen-wont-play-for-the-cavaliers-this-season","content":"Report: Ray Allen won't play for Cavs this season"},{"href":"http://fantasynews.cbssports.com/fantasybasketball/update/25083646/bulls-derrick-rose-undergoes-meniscectomy-could-return-4-6-weeks","content":"Bulls' Rose has meniscectomy; back 4-6 weeks?"},{"href":"http://www.cbssports.com/nba/eye-on-basketball/25083455/report-earl-lloyd-nbas-first-black-player-has-died-at-86","content":"Earl Lloyd, first black player in NBA, dies at 86"},{"href":"http://fantasynews.cbssports.com/fantasybasketball/update/25084039/cavs-kyrie-irving-dealing-with-shoulder-strain-out-for-fridays-game","content":"Cavs' Irving has shoulder strain, out for Friday"},{"href":"http://fantasynews.cbssports.com/fantasybasketball/update/25083635/report-knicks-phil-jackson-facing-fine-for-comments-about-dangelo-russell","content":"Report: Phil may be fined for prospect' comments"},{"href":"http://www.cbssports.com/nba/eye-on-basketball/25084082/mark-cuban-says-everyones-for-expanding-nba-season-into-july","content":"Cuban says idea to play into July has support"}]},"college basketball":{"minicover":{"body":" Palm: Wichita State was a No. 1 seed last year. Now the Shockers are desperate for a quality win, with their last chance coming Saturday against N. Iowa. Bracketology ","synopsis":"Shockers in danger","photo":{"width":"231″,"seq_no":"1″,"content_id":"25083594″,"href":"$IMAGE_SERVER/u/photos/basketball/college/img25083594.jpg","height":"130″},"href":"http://www.cbssports.com/collegebasketball/bracketology","title":"Bracketology: Shockers in a bind"},"headlines":[{"href":"http://www.cbssports.com/collegebasketball/bracketology","content":"Bracketology: Shockers in danger of missing out"},{"href":"http://www.cbssports.com/collegebasketball/eye-on-college-basketball/25083348/watch-vandys-kevin-stallings-says-hell-kill-one-of-his-players-after-game","content":"Stallings apologizes for saying he'll 'kill' player"},{"href":"http://www.cbssports.com/collegebasketball/eye-on-college-basketball/25083917/florida-reinstates-dorian-finney-smith-will-play-vs-tennessee-on-saturday","content":"Finney-Smith reinstated by Florida, to play Sat."},{"href":"http://www.cbssports.com/collegebasketball/eye-on-college-basketball/25084036/utep-coach-tim-floyd-hit-with-one-game-suspension","content":"UTEP coach Floyd gets one-game suspension"},{"href":"http://www.cbssports.com/collegebasketball/eye-on-college-basketball/25082302/former-louisville-pg-chris-jones-facing-charges-of-rape-sodomy","content":"Former Louisville PG Jones to face rape charge"},{"href":"http://www.cbssports.com/collegebasketball/eye-on-college-basketball/25082763/syracuses-jim-boeheim-would-take-suspension-over-players-tourney-ban","content":"Boeheim prefers suspension over tourney ban"},{"href":"http://www.cbssports.com/collegebasketball/eye-on-college-basketball/25082865/lsu-arizona-state-marquette-and-nc-state-to-headline-2015-legends-classic","content":"LSU, Arizona St. headline '15 Legends Classic"}]},"fantasy news":{"minicover":{"body":" Are you ready, Jeremy Hill, Carlos Hyde and Brandin Cooks? Our Jamey Eisenberg says they are among a dozen who will take the next big step in 2015. Full Story ","synopsis":"Early breakouts for 2015″,"photo":{"width":"320″,"seq_no":"0″,"content_id":"25084033″,"href":"$IMAGE_SERVER/u/photos/fantasy/football/img25084033.jpg","height":"180″},"href":"http://fantasynews.cbssports.com/fantasyfootball/story/25083664/offseason-extra-early-look-at-breakouts","title":"Early breakouts for 2015″},"headlines":[{"href":null,"content":null}]},"worldcup":{"minicover":{"body":"
John Brooks' header to send the US past Ghana. Brazil's epic collapse. Mario Gotze's clinching goal in the final. We hand out awards for the best moments in Brazil. Story ","synopsis":"World Cup in review","photo":{"width":"231″,"seq_no":"1″,"content_id":"24620624″,"href":"$IMAGE_SERVER/u/photos/soccer/img24620624.jpg","height":"130″},"href":"http://www.cbssports.com/world-cup/eye-on-world-cup/24620523/cbssportscom-2014-fifa-world-cup-awards-best-moments","title":"World Cup's best moments"},"headlines":[{"href":"http://www.cbssports.com/world-cup/eye-on-world-cup/24622027/world-cup-final-sets-usa-television-record-with-265-million-viewers","content":"Cup final sets ratings mark for soccer on US TV"},{"href":"http://www.cbssports.com/world-cup/eye-on-world-cup/24621936/watch-massive-crowd-celebrates-germanys-world-cup-victory","content":"Massive crowd toasts German team in Berlin"},{"href":"http://www.cbssports.com/world-cup/eye-on-world-cup/24620830/maradona-claims-messis-golden-ball-award-just-a-marketing-plan","content":"Maradona: Messi undeserving of Golden Ball"},{"href":"http://www.cbssports.com/world-cup/eye-on-world-cup/24620634/world-cup-2018-odds-germany-early-favorite-to-repeat-us-50-to-1","content":"Germany early favorite for the 2018 World Cup"},{"href":"http://www.cbssports.com/world-cup/eye-on-world-cup/24620345/brazil-coach-luiz-felipe-scolari-out-after-disastrous-end-to-world-cup","content":"Brazil boots manager after ugly World Cup finish"},{"href":"http://www.cbssports.com/world-cup/eye-on-world-cup/24619193/report-suarez-will-lose-millions-from-barcelona-if-he-bites-anyone","content":"Suarez will lose millions from Barca if he bites"},{"href":"http://www.cbssports.com/world-cup/eye-on-world-cup/24615958/fifa-world-cup-final-germany-vs-argentina-preview","content":"Germany edges Argentina to win '14 World Cup"}]}};
if (globalNav && navContentJson) {globalNav.init(navContentJson);}
CBSi.globalNav = globalNav;
});
<!– DARK RIVER TEST/ sports_river – disabled [0
Manny Pacquiao records new song, will enter Mayweather fight to it – CBSSports.com