Cardale Jones Is the Unlikely Face of College Football's Offseason – Bleacher Report
COLUMBUS, Ohio — Jameis Winston isn't around to create headlines anymore.
Johnny Manziel is no longer jet-setting around the country.
Jadeveon Clowney's time to ponder skipping his junior season has come and passed.
But despite college football's biggest stars of yesteryear having moved on to the professional ranks, the sport still has a face. It's just not one you'd expect to be looking for.
Since leading Ohio State to the first-ever College Football Playoff championship last month, Cardale Jones has managed to consistently stay in the news this offseason. But unlike Winston, Manziel and Clowney before him, he's doing so for all the right reasons.
Jones was the unlikely face of the Buckeyes' national championship team, a one-time third-string quarterback who led underdog Ohio State to postseason wins over Wisconsin, Alabama and Oregon. Just as he starred on the field, Jones has been the center of attention off of it this offseason, after announcing his return to school three days after the Buckeyes' national title victory.
"My education is going to take me 10 times further than my athletic ability," said Jones, a potential first-round pick who was previously best known for an ill-advised anti-education tweet. "At my point in my career, I feel like it's best for me to go back to school. One of the most important things for me to do is graduate."
The goodwill around Jones didn't stop there, with the 6'5″, 250-pounder playing a game of NCAA Football with a patient in a hospital and reportedly besting him by a score of 91-35. Never shy to speak his mind, Jones would go on to clarify he was actually able to add another touchdown to his total by the end of the game.
Man I wish everyone stop saying I beat a kid in the hospital 91-35…. It was 98-35, had 91 with 1:26 left in the 4th pic.twitter.com/TAJxefv5A4

— Cardale Jones (@CJ12_) February 10, 2015
The story of Jones' humorous hospital visit went viral, as did Monday's news that he was a surprise volunteer at a Columbus Meals On Wheels event. The Cleveland, Ohio, native's presence has been so strong this winter that Ohio state representative Bill Patmon of Cleveland presented Jones—and his nickname, "12 Gauge"—with an official commendation.
Cardale "12Gauge" Jones pic.twitter.com/ErDzXLqV6A

— Cardale Jones (@CJ12_) February 23, 2015
Upon winning the national championship, Jones' journey was a feel-good story, one of a formerly immature kid thrust into the spotlight and succeeding against all odds. Since then, the Big Ten Championship Game MVP has become much more than an intriguing narrative and is now the chief representative for college football's most talked-about program.
"For a young guy to want to follow in my footsteps, it's a humbling experience," Jones said during his ESPN Trailblazers conversation with Doug Williams. "It means a lot."
"When I got off the airplane, first thing they told me was I was the man," said Williams, the first African-American quarterback to win a Super Bowl. "Then all of a sudden [Jones] walks through the door and all of a sudden The Man is here."
Jones' celebrity status is undeniable, his fun-loving personality equally as appealing as his cannon of an arm. But although Jones is currently enjoying life as the face of college football, he may not even be the face of his own team come fall.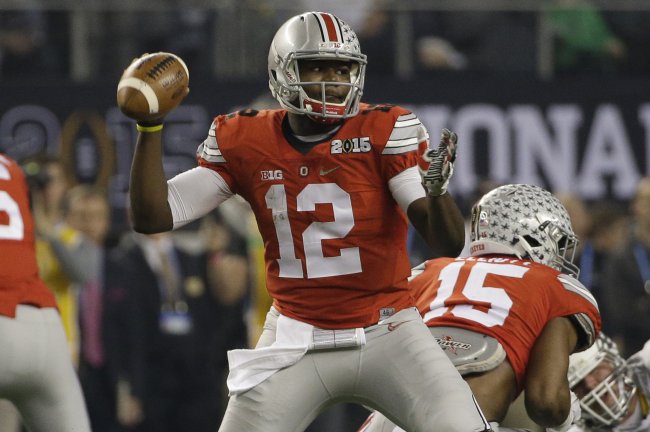 David J. Phillip/Associated Press

Entrenched in an unprecedented quarterback battle that also includes the two players who used to sit ahead of him on the Buckeyes' depth chart, there's no guarantee Jones will be Ohio State's starter when the 2015 season begins. Two-time Big Ten MVP Braxton Miller and reigning national Freshman of the Year J.T. Barrett each have compelling cases to reclaim the Buckeyes' starting spot and are expected to be healthy by the start of fall camp.
Even with the news that Barrett could be capable of participating in seven-on-seven drills this spring, via 97.1 The Fan (h/t theozone.net's Tony Gerdeman), Jones will still be in the driver's seat of Ohio State's quarterback competition when spring practice kicks off in Columbus on March 10. The only quarterback of the three who will be at full strength, Jones will benefit from receiving most, if not all, of the Buckeyes' first-team reps this spring.
"I can get a lot better," Jones said. "As each week and each game went on, I think I got a lot better and I progressed. With a full offseason taking reps as a [No.] 1, I think it'll make me be the best quarterback I can possibly be."
After throwing for a combined 742 yards and five touchdowns while leading Ohio State to a national championship in the first three starts of his college career, that's a scary thought. Quarterback aside, the Buckeyes will return seven starters on offense from a season ago and could benefit from the continuity Jones would provide them with.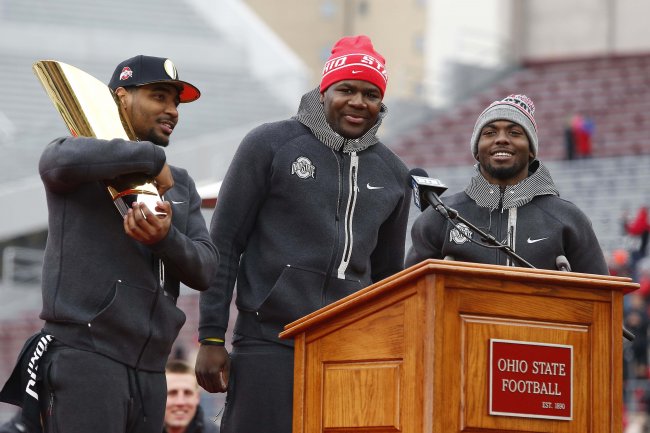 USA TODAY Sports

With the bulk of the offseason still ahead, Ohio State's quarterback situation won't be figured out any time soon. Until then, Jones is embracing his time in the spotlight, showing the type of leadership that could very well give him an edge in the quarterback battle.
"I want to go back to school and compete for the spot," Jones said. "I don't want anything given to me."
It won't be. But if the past three months have been any indication, Jones has just what it takes to remain the unlikely face of college football.
Ben Axelrod is Bleacher Report's Big Ten Lead Writer. You can follow him on Twitter @BenAxelrod. Unless noted otherwise, all quotes obtained firsthand. All statistics courtesy of cfbstats.com. Recruiting rankings courtesy of 247Sports.